THE PIMS CURRICULUM
Your future starts here
SETTING YOU UP FOR SUCCESS
Our courses are designed to prepare our students to be equipped with the tools, knowledge, and skill necessary for a successful future within the funeral industry. Not all courses listed below are required for every student. Course and program selection is based on the applicants college experience and state of licensure.  
Public Health and Technical
This section serves to provide a theoretical orientation and framework which students will apply in their practical experience in embalming. The courses also familiarize the students with medical information that often is of concern to the family.
HUMAN ANATOMY (ANA 110)
3 credits; 3 hours lecture/discussion per week.
Terminology, terms of reference used in anatomical description, the anatomical position and topographical anatomy are covered as well as details of cells, tissues, organs, and organ systems. The systemic approach is utilized in the study of the integumentary, skeletal, circulatory, endocrine, nervous, muscular, respiratory, digestive and genitourinary systems. Reciprocity of the anatomy and physiology is covered throughout.
EMBALMING ORIENTATION (EMB 131)
2 credits; 2 hours lecture/discussion per week.
The student is introduced to the science of embalming, its etymology, and methods used. The preparation room and necessary instrumentation and equipment are included. The clinical laboratory procedures and protocols for embalming normal and infectious cases are discussed, as well as the impact of OSHA and government regulation on the work environment. Basic principles of chemistry as they relate to the nature organic decomposition and embalming chemicals are presented. Especially stressed are the chemical principles and precautions involved in the attempted preservation and disinfection of the dead human body.
EMBALMING I (EMB 132)
3 credits; 3 hours lecture/discussion per week and clinical embalming assignments.
The ethics of this technical aspect of funeral service is emphasized throughout. Types, signs, and tests of death, post-mortem changes, and pre-embalming diagnosis are covered. Types of embalming fluids, fluid dilutions and their composition and preparation are discussed. Beginning with case analysis, the preparation of the normal and autopsied remains is described in detail.
EMBALMING II (EMB 133)
2 credits; 2 hours lecture/discussion per week and clinical embalming assignments.
Case analysis is given continued and careful attention. The preparation of non-routine, difficult cases including autopsied remains and those requiring major restoration or unusual procedures are included as well as post- embalming treatments.
ENVIRONMENTAL HEALTH (BIO 210)
3 credits; 3 hours lecture/discussion per week.
This course studies the effects of the human population on the environment and vice versa. Concepts of ecology supporting man's life will be discussed as well as crises developing as a result of man's exploitation of the environment. Discussions will include air and water pollution, problems of solid waste disposal, toxic hazards, energy conservation, food protection, insects and rodents.
MICROBIOLOGY (MIC 110)
3 credits; 3 hours lecture/discussion per week.
The structure and function of bacteria, viruses, yeasts, molds, chlamydia, and protozoa are discussed. Influence pathogenic organisms, their portals of entry and exit, transmission and immunization. The role of these organisms in decomposition and the dead human body as a potential source of infection are discussed. In addition, this course provides thorough investigation of methods of disinfection, types of disinfectants, and sanitary safeguards to be used in the preparation room.
PATHOLOGY I (PAT 121)
2 credits; 2 hours lecture/discussion per week.
In general pathology topics covered include: forensic pathology, terminology related to disease degenerative tissue changes, inflammation, circulatory disturbances, neoplasms and other general disease processes.
PATHOLOGY II (PAT 122)
2 credits; 2 hours lecture/discussion per week.
In special pathology, the study of organs and organ systems emphasizes pathological conditions and etiological factors which require special procedures in the removal, handling, preparation and disposition of human remains. A demonstrated general knowledge of disease and related terminology should enable competent communication with members of the medical community, allied professionals and surviving family members.
.
RESTORATIVE ART PRINCIPLES (RA 110)
3 credits; 3 hours lecture/discussion per week.
This course is designed to develop skill in providing esthetics for the traditional process of funeralization.
Lectures cover the basic principles of proportion, size, and shape of the individual features of the face. This phase is closely tied in with the anatomical features of bone structure and facial muscles. In this course the student is prepared to deal with reconstruction processes which become necessary from time to time when the body becomes distorted or disfigured by traumatic injury or disease. Suturing, hypodermic injection, treatments of discoloration, burned areas, as well as reproduction of facial features and hair are covered. Cosmetic types and uses are covered thoroughly. The course also includes the color theory and lighting as they apply to the funeral home environment.
Business Management
As a potential owner or manager of a funeral home, the funeral director should possess an understanding of basic accounting principles, a working background with computers and basic business practices. These courses are designed to give the student a thorough knowledge of the business world as it relates to funeral service.
BUSINESS MATHEMATICS / COMPUTER APPLICATIONS (BMC 110)
3 credits; 3 hours lecture/discussion per week.
This course examines basic mathematic principles and skills, and explores foundations of Microsoft Office tools. The mathematics principles learned in this class will not only provide a basis for math skills needed in future educational endeavors, but they will be imperative to the students' careers in funeral service. Additionally, the Microsoft Office component of this class will focus on Microsoft Word, Excel, and PowerPoint, and will provide real-life application of these tools
FINANCIAL ACCOUNTING (ACC 110)
3 credits; 3 hours lecture/discussion per week.
An introduction to the basic principles of accounting theory. This course covers financial statements, worksheets, journalizing, receivables, payables, deferrals, and accruals. Inventory costing models, depreciation models, payroll accounting and financial statement analysis are included. Applications to funeral home operations are made throughout the course.
CONTEMPORARY PROFESSIONAL ISSUES (CPI 210)
3 credits; 3 hours lecture/discussion per week.
This course builds upon all previous learning experiences and considers relevant issues in the business environment while particularly emphasizing funeral service. The student will be expected to participate in researching the diverse environmental, scientific, social, political, economic, legal and ethical forces affecting the professional practitioner today. Trends are discussed and the interrelationships of these issues are explored to assist the student in assuming professional responsibility.
CREMATION PRINCIPLES AND PRACTICES (CR 110)
3 credits: 3 hours lecture/discussion per week.
This course, provides a comprehensive examination of the business, legalities, psychology, sociology, and science of cremation practice, as they relate to funeral service. The course will discuss detailed best practices of cremation practice. Topics include: history of cremation, cultural and religious views of cremation, consumer attitudes towards cremation, funeral business considerations relating to cremation services, funeral marketing of cremation services, and the science of cremation. Also discussed are legal considerations of providing cremation services, and professional resources for the cremationist.
ELEMENTS OF ECONOMICS (ECO 210)
3 credits; 3 hours lecture/discussion per week.
An introduction to the elements of economics analysis. The student is exposed to the mechanics of the market system and a survey of modern macroeconomic theory as applied to fiscal and monetary policy affairs. An introduction to basic microeconomic theory, supply and demand analysis and application to consumer markets as well as resource markets is also covered.
FUNERAL MANAGEMENT I (FM 121)
2 credits; 2 hours lecture/discussion per week.
The arrangement conference provides a focus for reinforcing communication techniques that should be used detailed explanations of how to conduct funerals for various racial, religious, military, and fraternal groups is carefully covered. The terminology for procedures is emphasized, from initial call details, to the arrangement conference, and the visitation period. Death benefits are covered. Mock sessions and role-playing are used where helpful.
FUNERAL MANAGEMENT II (FM 122)
3 credits; 3 hours lecture/discussion per week.
This course is designed to acquaint the student with the many problems inherent to the maintenance, operation, and management of a funeral home. Casket and vault construction are thoroughly covered. Other items associated with the traditional funeral are also introduced. Merchandising procedures, proper display techniques as well as pricing methods are emphasized. The student is also exposed to inventory control methods, discussions on warranties, and compliance procedures for the Federal Trade Commission Rule.
FUNERAL SERVICE MARKETING (MKT 210)
3 credits; 3 hours lecture/discussion per week.
Aspects of effective communications strategy for advertising and selling funeral merchandise and services are reviewed. The course focuses however, on the many marketing problems, challenges, and opportunities which face the funeral director today. Topics include consumers and their behavior, pricing and product/service strategies, pre-need sales, services marketing in the private sector, and marketing alternatives to the traditional funeral.
HUMAN RESOURCE MANAGEMENT (HRM 210)
3 credits; 3 hours lecture/discussion per week.
This course includes all of the important management functions in securing the right person for the position available, including screening considerations, employment interviews, techniques of interviewing, preparation of resumes, application forms, and offer and acceptance letters. The employment relationship, orientation of new employees, compliance with EEOC guidelines, orientation and training, employee motivation and performance evaluations, compensation administration, and employee health and safety are also covered.
PROFESSIONAL SEMINAR SERIES (PSS 110)
1 credit; 3 hours per week.
This course provides the opportunity for students to interact directly with other professionals in the death care industry. Funeral directors, counselors, casket, burial vault, and crematory operators, as well as cemeterians, and trade association representatives bring expertise and programs to the students. There are also a number of field trips included. Ninety percent of the course grade is devoted to a review of course content and examination material covered on the PIMS Comprehensive Examination which is administered at the end of the term.
RISK MANAGEMENT (RM 210)
3 credits; 3 hours lecture/discussion per week.
This course addresses the general principles of risk management and insurance. Because the use of insurance is the principal method of handling risk, the student is introduced to risk assessment techniques, insurance checklists, policy language and contracts as well as the basic types of insurance which a business owner should consider, such as property, liability, multi-peril, life, medical, disability and key-person insurance.
SMALL BUSINESS MANAGEMENT (MGT 122)
3 credits; 3 hours lecture/discussion per week.
The role and function of the funeral director as an effective manager are explored and defined with emphasis on the management functions of planning, organizing, motivating, directing and controlling. How to purchase a funeral home is also covered. Case analysis supplements lecture to develop the ability to recognize and solve management problems confronting an owner/manager of a funeral home.
Social Sciences | Humanities
The subjects included in this area are designed to give the student a greater awareness and a better understanding of the psychological challenges of the bereaved. Your skills will be enhanced as a counselor. Assisting the family to select the funeral they desire is an important step in their bereavement adjustment.
STRATEGIES FOR SUCCESS (COM 100)
1 credit; 1 hour lecture/discussion per week.
This multi-faceted course is designed to assist and enhance student success stories at PIMS. Included in this course will be modules associated with learning styles and systems, time management, listening & note taking, reading, and test taking. Grammar, vocabulary and business writing assignments will also be covered.
COMMUNICATION SKILLS (COM 110)
3 credits; 3 hours lecture/discussion per week.
This course introduces and explores different communication theories discussing their ramifications and application to funeral service needs. While traditional presentation speech is included, equal emphasis is placed on the extensively employed one-on-one and small group interpersonal communication processes. The course also includes business applications, advertising, public relations and the funeral service itself.
DEATH AND CHILDREN (DC 210)
3 credits; 3 hours lecture/discussion per week.
Death is a natural event and it is normal for children to question it, and have fears about it. The need by parents and some professionals to protect children have contributed to many misconceptions and increased anxieties. This course will examine childhood concepts and fears of death, how to interact with a dying child/his or her parents/surviving siblings, children whose parents die, death and the adolescent, suicides by children/adolescents, and a child's religious orientations.
ENGLISH COMPOSITION (ENG 210)
3 credits; 3 hours of lecture/discussion per week.
This course is designed to introduce the process of writing; to review the mechanics of writing: grammar, punctuation, capitalization, spelling, and sentence and paragraph organization; to challenge the student to think logically and to apply these skills in constructing clear, concise compositions.
GENERAL PSYCHOLOGY (PSY 121)
2 credits; 2 hours lecture/discussion per week.
This course introduces and discusses all aspects of behavior; physiological, developmental, emotional and pathological. It concentrates on behavior in such a way that involves the student, in a way that makes psychology more a part of their world. By discussing where behavior comes from, how and when it develops, the course provides the students with a tool that may help them develop a new understanding of themselves and their relationship to others.
GERONTOLOGY (GER 210)
3 credits; 3 hours lecture/discussion per week.
The multiple problems of the older person are examined in order to develop the sensitivity to the special needs of the aged in our society. Implications of aging on physiological, cognitive, emotional, social and economic status are addressed as well as historic, ethnic and futuristic aspects of aging.
PSYCHOLOGY OF DEATH (PSY 210)
3 credits; 3 hours lecture/discussion per week.
This course introduces basic psychological techniques as applied to an individual's emotional and intellectual understanding of death as it impacts his/her personal life. The course will augment the studies in a number of other courses such as Thanatology and the other psychology courses offered. The importance of "coming to terms" with one's death (whatever form this may take) is believed by many psychologists to be a central task in human development, and this course explores the manner in which one's orientation to death impacts the course of an individual's life. The course will examine several of the most prominent historical and contemporary individual approaches to the "meaning of death". Implications of an individual's orientation to his/her mortality will be considered. The student's own understandings will be incorporated into the course material.
PSYCHOLOGY OF GRIEF AND COUNSELING (PSY 122)
3 credits; 3 hours lecture/discussion per week.
This course introduces students to the basic theories of grief as they pertain to aiding bereaved individuals and their families. Students will become familiarized with the grief process in relation to such topics as suicide, S.I.D.S., widowhood, terminal illness, support groups and the hospice. Services provided by the funeral director as member of one of the "care-giving" professions will be highlighted. Basic counseling skills will be discussed and role-play scenarios which involve implementing these skills will aid the students' understanding.
SOCIAL PSYCHOLOGY (SOC 210)
3 credits; 3 hours lecture/discussion per week.
Why do people act the way they do? What makes someone more likely to be helpful or aggressive in certain situations? How does like grow into love? This course will assist in answering these questions as well as acquaint the student with the study of human behavior from the perspective of social psychology. The course is chronologically arranged so as to include not only the rich history of social psychology but also the constantly evolving future. Social psychology focuses on social perception: thinking about ourselves and others, social interaction: relating to others and social influence: changing attributes and behaviors.
THANATOLOGY: A SOCIO-CULTURAL AND HISTORICAL PERSPECTIVE (SOC 110)
2 credits; 2 hours lecture/discussion per week.
This study of death and dying examines the contemporary role of the funeral industry in the United States while placing it within an historical context. The changing role of funeral directors and their responsibilities within the social framework of our culture are highlighted. Sociological principles such as the family unit, group roles, demographic variables and the socialization process as it impacts lifestyles and death styles are covered. The course also includes discussion of various topics of interest for today's and tomorrow's funeral director.
WORLD RELIGIONS IN AMERICA (REL 210)
4 credits; 4 hours lecture/discussion per week.
This course will survey the various religions which impact the lives of people in a most profound manner. The course examines the historical development of the religions as well as presenting a picture of the most common religions as they are today. There is also an analysis of how religion began and developed. Consideration is given to how the concepts are related to one another within a religion as well as the relationships between various religious orientations. Various views will be considered with a special focus on issues that are important in most studies of the world's religions as practiced in America.
Legal, Ethical, Regulatory, and Other
The following courses cover the legal regulations governing the funeral industry and discuss the emerging professional and ethical concerns. Students will be acquainted with more general legal considerations necessary for the operation of a business, including relevant issues in estate planning. A professional attitude and ethical practices are stressed throughout the courses.
BUSINESS LAW (BL 110)
3 credits; 3 hours lecture/discussion per week.
The nature of law, types of law, and the judicial process are investigated. Torts, contracts, and formalities of a sale including transfer of title and risk are included. The Uniform Commercial Code, commercial paper, nature of property and leases, and bailment's are given careful attention. In addition, agency and employment, forms of business organization, and bankruptcy are presented. Applicable examples concerning funeral service practice are included throughout.
ETHICS (ETH 110)
1 credit; 1 hour lecture/discussion per week.
This course examines the various complexities confronting the contemporary professional. The course begins with a discussion of human activity which takes into account ethical dilemmas and individual responsibility. Specific areas to be covered include ethical considerations in business practices such as promotional activities, compliance with governmental regulations, and responsibilities as a member of a professional community. Emerging societal concerns in relation to advances in biomedical technology and the concurrent changes in the experience of aging, dying, and death are also addressed.
FUNERAL SERVICE LAW (FSL 110)
3 credits; 3 hours of lecture/discussion per week.
This course complements and develops many points studied in business law and funeral management that are peculiar to the funeral service profession. Emphasis is also placed on statutory laws relevant to funeral service.
State laws and rules and regulations are also covered.
REGULATORY COMPLIANCE (MGT 121)
3 credits; 3 hours of lecture/discussion per week.
This course is designed to meet the various regulatory challenges facing the small business owner today. Emphasis will be placed on the Federal Trade Commission's (FTC) Funeral Trade Practices Rule, Occupational Safety and Health Administration (OSHA) and Americans with Disabilities Act (ADA). EEOC and Wage and Hour regulations are included. Discussions will include an historical perspective of each regulation as well as how regulatory compliance may be achieved.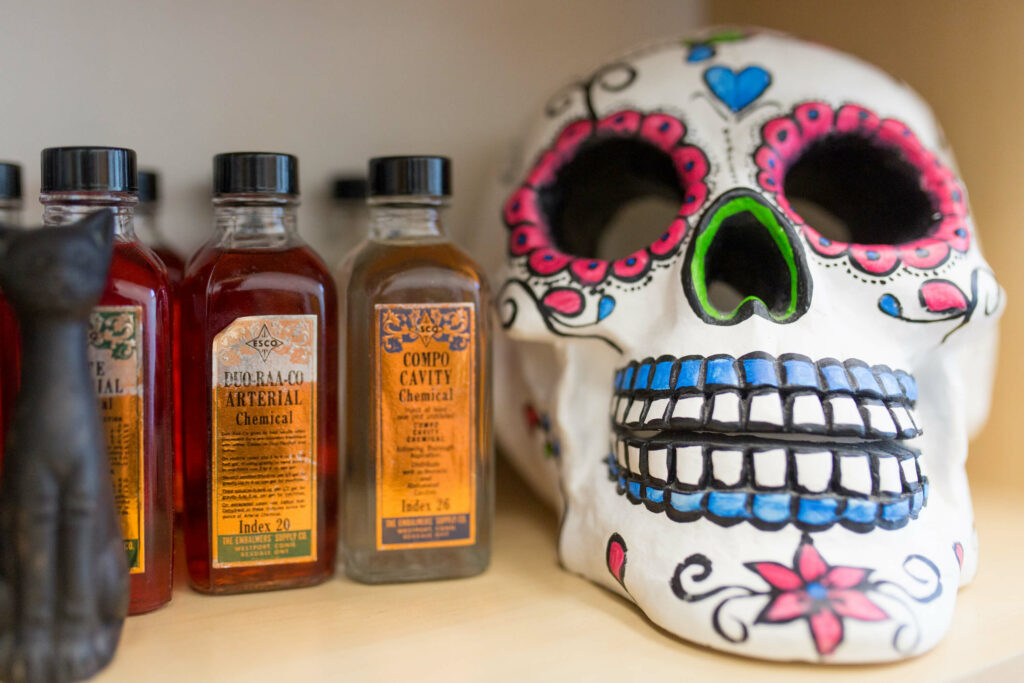 Restorative Art lab
(RA 110L) 1 credit; 30-hour laboratory
The laboratory articulates the theoretical concepts which are covered in the classroom with actual practical work using restorative wax and appropriate instrumentation, learning to recreate all of the facial features systematically until the student can reproduce the entire face including hair replacement. Skull reconstruction is performed by encompassing various techniques and finally real-life pathological and traumatic scenarios are challenged with the most advanced lifelike head models in the industry. Cosmetic techniques are also implemented during the laboratory sessions.
KEEP EXPLORING THE PROGRAMS:
CLINICAL EMBALMING
PIMS offers one of the most thorough and comprehensive clinical laboratory experiences in the country.
FUNERAL PRACTICUM
At PIMS, like all American Board of Funeral Service Education accredited schools, students fulfill a Funeral Service Practicum. The goal is to give the students "real-world" experience while learning the challenges facing the modern funeral director.  
ONLINE PROGRAMS & REQUIREMENTS
With a wealth of professional resources and facilities at your disposal PIMS offers you the space to master your passion. You'll be amazed at what PIMS has to offer in our online degree programs.